Time—4:06
Dave Para—classical guitar; Dave Wilson—cello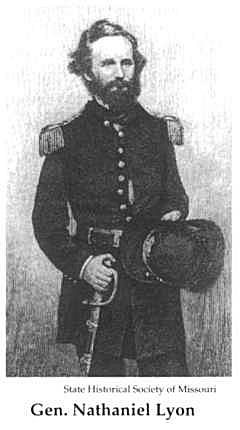 This funeral march was composed in 1861 by the Rev. G. J. Kredel and published in sheet music form by G. Andre & Co., Philadelphia, Pa. We found a copy of the original sheet music in the collection of the State Historical Society of Missouri. Dave Para transcribed it for guitar, and Dave Wilson created the lovely cello part for our recording.
The song commemorates Union General Nathaniel Lyon, who was killed at the Battle of Wilson's Creek near Springfield, Mo., in August 1861. A detail from N.C. Wyeth's painting of this battle (the original of which is in the Missouri State Capitol at Jefferson City, Mo.) is the cover art for this recording. Lyon was the first general to be killed in the Civil War, and was as responsible as anyone for keeping Missouri under the control of the Union army in the first year of the war.
Born in Connecticut in 1818, Lyon graduated from the u.S. Military Academy and served with distinction in the Mexican War. It was while he was stationed in Kansas from 1854 to 1860 that he developed his strong distaste for pro-slavery supporters. After his death at Wilson's Creek it was discovered that he had willed his estate to the Federal government to help in the prosecution of the war.