Time—4:26
Dave Para—guitar and vocal; Cathy Barton—hammered dulcimer and vocal; Bob Dyer—vocal; Dave Wilson—cello and fiddle
After their defeat at Pea Ridge, much of the Confederate Army of the West was called to other campaigns east of the Mississippi. Many members of the Missouri State Guard refused to go, however, and simply returned home. There they found that the Union Army had installed provisional governor Hamilton Gamble in place of renegade governor Claiborne Fox Jackson at Jefferson City and had established martial law in the State. This martial law was often enforced by local "Home Guards," resulting in harrassment of neighbors whose loyalty was questioned. On the Kansas border Doc Jennison's Seventh Kansas Cavalry (the "Jayhawkers") and groups led by Senator Jim Lane and Jim Montgomery swept across unprotected western Missouri, looting burning, killing, and rekindling animosities of the border war of 1857.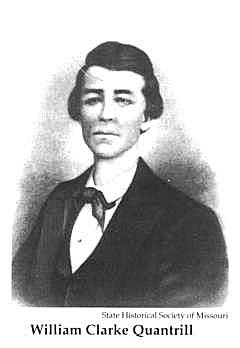 With no Confederate army at home to resist enemy occupation, many Missourians joined bands of guerrillas that increased each year of the war in spite of, and often because of, the Union's attempts to stop them. The most notorious of these bands was led by the enigmatic William Clarke Quantrill, an Ohioan in his mid-20's who came to Kansas in 1857, taught school and kept company with free-staters and abolitionists, then curiously and dramatically switched sides just before the war began. While Unionists generally considered him a monster, the early successes of his brief, bloody and tragic career were glimmers of hope for many pro-Southern Missourians who felt the Confederate army had abandoned them, and many of these young men chose "to go to the Quantrill side" knowing that the Union offered no quarter to guerrillas.
This song was published in 1947 by Frank Beddo of San Antonio, Texas, in his collection called Bexar Ballads, and again in the People's Song Bulletin. Beddo said he learned the song from his grandmother, whose father was driven from the Oklahoma Territory in 1861 for being an abolitionist, and the mispronunciation of Quantrill's name ("Cantrell") is one clue that the song has circulated in the oral tradition. The loss of Joe's bride may be a vague reference to the death of some of the guerrillas' womenfolk in the collapse of a warehouse in Kansas City where they were held prisoner by the Union Army in August 1863. The "Bitter Creek" reference is a puzzle. The chord accompaniment, is probably an invention of Beddo's and is reminiscent of the style of Josh White. Many thanks to Denver folk singer Harry Tuft for directing us to the song and for singing it to us.
The song is followed by a traditional midwestern tune, "Bonaparte's March," which we learned from the Indian Creek Delta Boys in Illinois in the late 1970's. This tune, coincidentally, is said to be the traditional tune used for "St. Clair's Defeat," which was mentioned earlier in the notes about "Pea Ridge."
---
Oh, I seen Big Joe as he got his horse and set himself for a ride.
He wore a coat of blackest black,
And his gun strapped by his side,
And his gun strapped by his side.


And I says, Big Joe, where do you go? Do you go to the Quantrill side?
For the night is black and your coat is black,
And your gun strapped by your side,
And your gun strapped by your side.


And I says, Big Joe, Oh yes I know they stole your fair young bride,
But you lost your wife and you'll lose your life,
If you go to the Quantrill side.
If you go to the Quantrill side.


But not a word did he say to me, and he passed me by with a stride.
And I says, Big Joe, Oh don't you go.
Don't you go to the Quantrill side.
Don't you go to the Quantrill side.


Bitter Creek was bare, and they caught him there, and that was the place where he died.
They killed him in his black, black coat.
And his gun strapped by his side.
And his gun strapped by his side.