Time—3:53
Bob Dyer—guitar and vocal; Dave Para—guitar and vocal; Cathy Barton—banjo and vocal; Dave Wilson—fiddle; Lloyd Hicks—tambourine; Lou Whitney—bass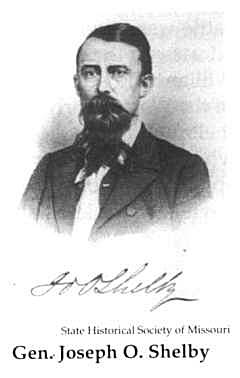 This song about the flamboyant Missouri cavalry leader, Joseph Orville ("Fighting Jo") Shelby, and focused on his daring raid through Missouri in the fall of 1863, was both composed and originally sung by Joseph Leddy, a well-known song and dance man with the Original Dixie Minstrels in St. Louis who enlisted in the Missouri State Guard in Saline County early in the war, was captured, escaped and then joined Kelly's Infantry.
Shelby was born into a prominent, wealthy and aristocratic Southern family in Lexington, Kentucky, in 1831. As a young man he came to Missouri and established successful steamboating, hemp farming and rope making businesses at Waverly, Mo., in Lafayette County. He became one of the wealthiest slave and land owners in Missouri, and was a leader of the pro-slavery faction in the state during the Kansas/Missouri border wars that set the stage for the Civil War in the Trans-Mississippi West.
Shelby was in St. Louis at the time of the Camp Jackson affair in May 1861, and was so outraged by the actions of his cousin, Frank Blair, and the Union army troops under the command of Lyon that he returned to Lafayette County and raised a cavalry company, joining Price and Jackson on their march south after the defeat at Boonville. With his plumed hat, hot temper, fearless bravado, and brilliant tactical sense, Shelby and his "Iron Brigade" fought throughout the war, gaining the reputation of both leading every attack and covering the rear of every retreat.
The 1863 raid commemorated in this song was the most daring raid made by Shelby during the war. Colorfully described by Edwards in Shelby and His Men, it covered some 1500 miles from the Arkansas line to the Missouri River and back again in 34 days with 800 men through the heart of Union occupied territory. During the raid a considerable battle was fought against Gen. Brown near Marshall, as mentioned in the second verse of the song. The reference to "Old Rosy" in verse four is to Union Gen. William S. Rosecrans who replaced Gen. Schofield as commander of the Army of the West in early 1864, partly be- cause of Schofield's inability to contain Shelby and to police his department against the bushwhackers. Rosecrans, who had been badly defeated at Chickamauga in Tennessee just prior to his appointment to the Army of the West, was, himself, replaced by Iowa Gen. Grenville Dodge less than a year later.
Shelby also, of course, accompanied Price's last fatal raid through the State of Missouri in the fall of 1864, covering the retreat through Kansas after the defeat at Westport. When the war ended Shelby refused to surrender and took his men on a fantastic two-year odyssey into Mexico, eventually returning to Missouri where he once again took up farming. In 1893 he was appointed united States Marshal for the western district of Missouri and served with honor to the end of his term. He died in 1897. His exploits during the war and after were immortalized by the writing of John Newman Edwards, Shelby's secretary during the war.
A Missouri Confederate soldier whose diary was published in the June 4, 1903, Clay County Democrat, describes a performance of this song by its composer, Joseph Leddy in Camden, Arkansas, in the winter of 1864. He says it was a great hit and that "no song of the South, up to that time, so pleased the Mis- sourians." He says, the song "took like 'Dixie' and 'Bonnie Blue Flag' and for a time displaced them all."
Leddy put his words to the tune of the minstrel song "Gal from the South" written by L.V.H. Crosby in 1850, and located for us by Joe Hickerson at the Archive of Folk Culture in the Library of Congress. The song is followed by a fiddle tune known to some Missouri fiddlers as "Shelby's Mule," but more commonly as "Waiting for the Federals," "Seneca Square Dance," "Gettin' upstairs the Monkey," or "Federal Hornpipe."
---
The Union folks away up north were one time much afraid,
'Bout something coming from the South, they said it was a raid.
Now I will tell you what it was, if you will just keep cool—
It had long ears, and a long slick tail, and called Jo Shelby's Mule.


CHORUS
Shout Boys, make a noise, the Yankees are afraid
That something's up and hell's to pay when Shelby's on a raid.


Once this mule went on a spree, up close to Lexington,
And every time he gave a snort he made the Blue Coats run.
Coming back through "Old Saline" he got into a trap,
He seared Old Brown, kicked up his heels, and came back safe to Pap.


Once I went to see Old Abe and found him in a rage,
Because this mule had started north, and just then crossed "sage.
Indeed, his anger knew no bounds, says I, "Sir, pray keep cool."
"I can't," said he, "I've lost so much by Shelby's long tailed Mule."


"Old Rosy" got a long dispatch, which came from way down East. Saying, "Take some thirty thousand men and try to catch that beast." To obey orders he was bound, but said Abe was a fool, And hadn't halter strong enough to hold Jo Shelby's Mule.

Some say our State did not secede, but let me tell you now That if she did or if she didn't we'll have her anyhow. Let us alone, we'll do the same, that is the Southern rule; If that won't do we'll pack the State down South on Shelby's Mule.