Time—3:22
Cathy Barton—hammered dulcimer; Dave Para—guitar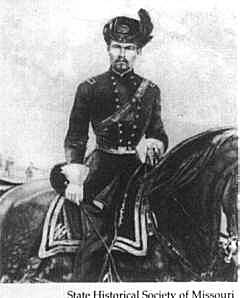 This piece was composed and published in St. Louis in 1861 by Charles Balmer (1817-1892) under the nom de plume Henry Werner to honor the popular St. Louis German General Franz Sigel. We found the sheet music in the collection of the State Historical Society of Missouri and Cathy and Dave arranged it for guitar and hammered dulcimer.
Balmer, the composer, came to St. Louis from Muelhausen, Germany in 1839, opened a music store with his brother-in-law C. Henry Weber in 1848, and served as organist at Christ Church in St. Louis for 46 years. He was a prolific composer and music publisher, and was chosen to conduct the music for Abraham Lincoln's funeral in Springfield, Illinois, in 1865.
Sigel was born at Sinsheim, Baden, in 1824 and graduated from military school at Karlsruhe in 1843. He participated in the unsuccessful Baden revolution in 1848-49, and fled to the U.S. in 1852. After living for several years on the east coast he moved to St. Louis in 1858 and taught mathematics in the German institute there, eventually being elected director of public schools.
In the turmoil leading up to the outbreak of the Civil War in Missouri, Sigel was a staunch Unionist and his military background made him a natural to organize and command the German troops in the St. Louis area. He served in Missouri during 1861 and then was ordered east where he spent the remainder of the war. After the war he became a journalist, first in Baltimore and then in New York City, where he died in 1902.