Cathy Barton and Dave Para give dynamic performances acclaimed for their variety and expertise in both vocal and instrumental styles. Their repertoire and informal audience rapport are marked by a special affection for traditional music.
Their more than 35 years of playing together have taken them to festivals, clubs, concert halls, schools and recording and media studios across the United States and five European tours. Their audiences are as diverse as their repertoire.
To me, Cathy Barton and Dave Para epitomize folk music.
-- Mike Flynn, The Folk Sampler.
Why do they sound like a whole band?
--Alan Munde
Cathy and Dave Para are both quite knowledgeable of the music they perform. We have been in the entertainment world for some 50 years, and we know of no one that cares about music as much as these two young entertainers.
-- Grandpa and Ramona Jones
Cathy Barton and Dave Para, as much as any folk musicians I know, carry on the sense of importance of folk music, the value of digging for old musical gold, of traveling far and wide to collect old songs and tunes, and of being friends with, rather than exploiters of the old-timers who have provided such wonderful musical foundations for us all. --Ed Trickett
This duo from Missouri make some of the best music you will ever hear.

--Art Thieme
A versatile duo, Dave and Cathy perform and conduct workshops with hammered and fretted dulcimers, banjo, guitars and Autoharp, as well as "found" instruments like bones, spoons, mouthbow and leaf. Their music ranges from driving string band music to contemplative ballads and airs. They have a knack for finding unusual, rarely heard songs from traditional and contemporary sources in their home region, but also from elsewhere in the US and Europe. They have conducted many topical workshops on songs from the Carter family, the Civil War, river lore, gospel, children's songs, Christmas music and Ozark ballads.
What We've Been Up To
New Album Features Instruments and Fun Tunes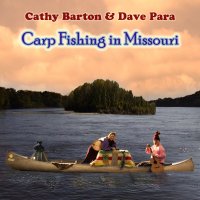 Cathy Barton and Dave Para are pleased to release their latest album, "Carp Fishing in Missouri" on their own Roustabout Record label, featuring a variety of fiddle tunes and highlighting the couple's hammered dulcimer, banjo and guitar repertoire. It is their 16th project since they started recording in 1978.
While it was duet singing that brought them together more than 40 years ago, they were also learning tunes from great old fiddlers and younger mentors. Cathy was one of the first hammered dulcimer players in the area as the instrument gained in popularity. Fiddle tunes have long been a substantial part of their performances and pastime.
Lots of players make all-instrumental albums, and the couple owns a bunch and learned much from them. For themselves, however, they always liked the variety of song and tune, despite numerous requests over the years, like, "Do you have one with just the music?" As contra dancing spread west across the U.S. reviving traditional square dance music, many players like Cathy and Dave were able to return their instrumental music to its most traditional setting. Playing tunes for three hours straight sustained the interest, expanded their repertoire and made them better players.
After all this time it might seem like a bucket-list project, but the strange title belies that notion. Six years ago the couple were introduced to a hoard of musical soul mates at Carp Camp, a roughly two-week long gathering of musicians at the Walnut Valley Festival in Winfield, Kan. Cathy and Dave had performed at the festival 22 years since the 1970s, and Cathy had helped introduce the hammered dulcimer there. The festival campground is known for individual meeting places, or camps, for jamming. They had known a number of friends who came to Carp Camp for years but had never hooked up with the group. The main jam of the day there starts after dinner, usually about 8 p.m. to give the hammered dulcimer players time to tune, and at least 50 players go at it until they thin out at 3 a.m. The tunes are great; the players are great and the sound is overwhelming. A friend loaned some live recordings to listen on a trip home from a festival, and the music, the energy and the fun just bowled them over. They got home, Cathy pulled the hammered dulcimer up by the stereo and they had about 15 tunes in them in less than a week. It was like the 1970s when the instruments were new and every tune was cool.
The main reason why the tunes are cool is the homework. Each year people suggest tunes for the jam, and a month or so prior to the festival they are selected and a couple dozen are listed via internet with musical notation and audio files. Learning them all isn't mandatory or even possible for some players, but it's a real attempt to get a large group to learn and enjoy new music. Carp Camp is inhabited and visited by many of the contest winners and people who play out, so the tunes suggested are usually fun, musically interesting and often challenging.
And when they're not playing, they're usually laughing, and that's very important. There are times to take yourself, your music and each other seriously, and there times not to. At Carp Camp you can figure that out. It's been on Cathy and Dave's calendar ever since.
The couple was fortunate to record with some new Carp Camp friends and play tunes they learned from them, so the many fiddle, mandolin, guitar, piano, bass and percussion players make this much more than a duet album. Arranging the instrument voices and creating interesting medleys is the joyous task, though sometimes you just want to take off right out of the gate with whoever is there. The combination of recent tunes with those that go back a few decades or so brings a dimension of time and continuity to the project.
The cover concept also reaches back to the couple's first self-produced album, "Ballad of the Boonslick," in 1982, for which they re-enacted George Caleb Bingham's "Jolly Flatboatmen." Their connection to the art and history of the famous Missouri painter continues in various ways, so a less than serious recreation of his iconic "Fur Traders Descending the Missouri" was an idea that persisted. The duo is a canoe in water, but not exactly that water, thanks to some digital work by Jim Denny. The bear cub atop the hammered dulcimer indicates their take on the animal controversy of the original painting.
Go here to hear clips and order a copy: href="http://bartonpara.com/bp/index.php/music/carp-fishing-in-missouri/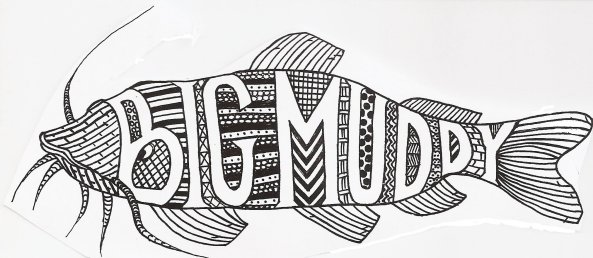 April marked the 26th annual Big Muddy Folk Festival at historic Thespian Hall in Boonville, which Dave and Cathy started and continue to direct. It was one of the best festival lineups we have had and everyone appeared to have a great time, or if they didn't, they didn't tell us about it. Sponsored by the Friends of Historic Boonville, it is a wonderful old hall only two blocks from home. Check out http://bigmuddy.org/2017pix/index.html to see some photos and video clips thanks to Buzz Keiper and Paul Para. And give some serious thought to attending the Friends 42nd Missouri River Festival of the Arts, Aug. 24-26. Chamber music is made glorious in Thespian Hall.