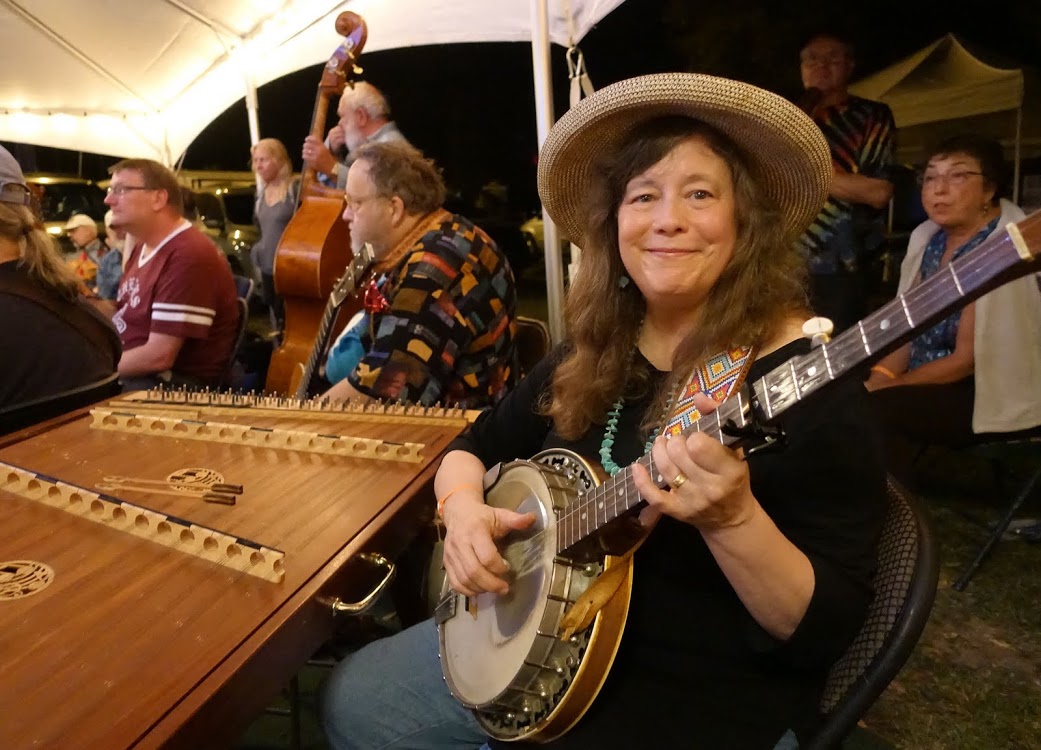 Cathy Barton Para, 1955-2019
Local musician Cathy Barton Para, 63, of Boonville, Mo., passed away
gently among family and friends at home, Wednesday, April 17, 2019.
Catherine Jean Barton Para was born June 12, 1955, in Fort Benning, Ga.,
to Claude D. and Mary Ruth Catlett Barton. An "Army brat," she lived
in Pennsylvania, Kentucky, Virginia and Hawaii before moving to Columbia
in 1967. She attended West Junior and Hickman High schools and Stephens
College, from which she graduated summa cum laude in 1977. She received a
master's degree in folklore from Western Kentucky University 1979. She
married David Para at First Baptist Church in Columbia in 1979 and began a
long and happy union with her lifelong love and fellow musician.
Cathy's active interest in music began in elementary school in Hawaii
and grew during her school days in Columbia. A champion banjo player, she
also was one of the first hammered dulcimer players in the region and
inspired many players nationally. Her playing was vibrant and she was a
generous and thoughtful teacher. She and Dave shared a musical career for
more than 40 years, traveling the U.S. roads and rivers and Europe,
specializing in traditional music from the Missouri – Ozark region. They
were awarded by the Missouri Humanities Council, Young Audiences of Kansas
City and the Folk Alliance Region Midwest. Stephens College named her a
distinguished alumnus in 1993. In a fruitful 20-year collaboration with
the late Bob Dyer, they produced three music albums related to Missouri
history which were awarded by the American Library Association. They
started the Big Muddy Folk Festival for the Friends of Historic Boonville.
She performed with Dave at the 28th festival held April 5-6. The couple
made 16 albums.
Cathy was a beautiful and benign person, and she performed as she lived, with her radiant smile, inviting laugh and unabashed joy, endearing her to the communities of home and career.
In addition to Dave, she is survived by two sisters, Claudia (Tom) Welsh and Judith (Tom) Gibbons, both in Texas, an uncle, Roy Barton in Memphis, and countless grieving and grateful friends.
A memorial service was held May 4 at Boonville's First Christian Church,
followed by a cemetery visit and a musical gathering at Turner Hall.
Memorials are suggested to KOPN Community Radio, Friends of Historic
Boonville and First Christian Church.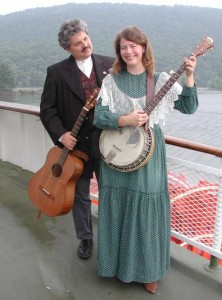 Cathy Barton and Dave Para give dynamic performances acclaimed for their variety and expertise in both vocal and instrumental styles. Their repertoire and informal audience rapport are marked by a special affection for traditional music.
Their more than 35 years of playing together have taken them to festivals, clubs, concert halls, schools and recording and media studios across the United States and five European tours. Their audiences are as diverse as their repertoire.
To me, Cathy Barton and Dave Para epitomize folk music.
-- Mike Flynn, The Folk Sampler.
Why do they sound like a whole band?
--Alan Munde
Cathy and Dave Para are both quite knowledgeable of the music they perform. We have been in the entertainment world for some 50 years, and we know of no one that cares about music as much as these two young entertainers.
-- Grandpa and Ramona Jones
Cathy Barton and Dave Para, as much as any folk musicians I know, carry on the sense of importance of folk music, the value of digging for old musical gold, of traveling far and wide to collect old songs and tunes, and of being friends with, rather than exploiters of the old-timers who have provided such wonderful musical foundations for us all. --Ed Trickett
This duo from Missouri make some of the best music you will ever hear.

--Art Thieme
A versatile duo, Dave and Cathy perform and conduct workshops with hammered and fretted dulcimers, banjo, guitars and Autoharp, as well as "found" instruments like bones, spoons, mouthbow and leaf. Their music ranges from driving string band music to contemplative ballads and airs. They have a knack for finding unusual, rarely heard songs from traditional and contemporary sources in their home region, but also from elsewhere in the US and Europe. They have conducted many topical workshops on songs from the Carter family, the Civil War, river lore, gospel, children's songs, Christmas music and Ozark ballads.