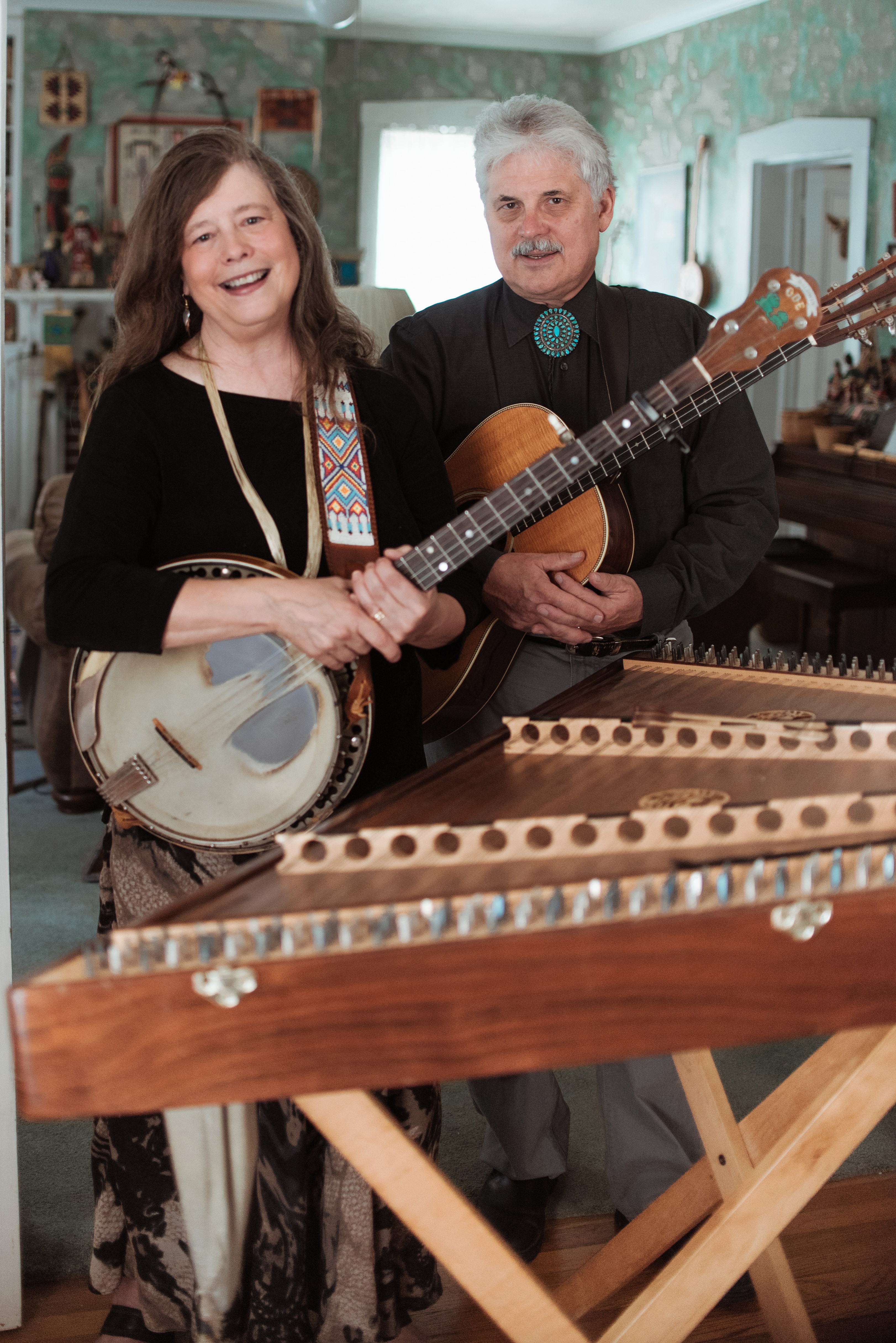 Cathy Barton Para, 1955-2019
Cathy passed away April 17, 2019, at her Boonville home among family and friends, just short of her 64th birthday and our 40th wedding anniversary, and 10 days after performing with me at her 28th annual Big Muddy Folk Festival. Although she had been diagnosed two years earlier with a rare and deadly form of melanoma Cathy stayed optimistic and hopeful and courageous. She was a beautiful and benign person, and she performed as she lived, with her radiant smile, inviting laugh and unabashed joy, endearing her to the communities of her home and career.
A lifelong musician, Cathy grew up singing and started learning the ukulele in elementary school in Hawaii, and after moving to Missouri she took up the guitar and banjo and eventually developed a champion old-time banjo style. After hearing a record by Bill Spence on community radio she became one of the first hammered dulcimer players in her region and helped expand the popularity of the instrument inspiring many players nationally. Her playing was vibrant and powerful and spot on, and she was a generous and thoughtful teacher. Music was always fun for her and tried to pass that on as much as any technique to her students and audiences.
The two of us shared a love for singing and cultivated a versatile and distinctive harmony duet and a reputation for giving dynamic performances acclaimed for variety and expertise. "Why do they sound like a whole band," the great banjoist Alan Munde once commented.
Folk music and the folks from whom we learned, especially in Missouri and the Ozarks, nurtured a scholarly interest in folk traditions and history that characterized our repertoire and audience rapport. Cathy liked to say she liked old traditional songs because a lot of people have had their hands on them. Musical hero Ed Trickett said that we, "as much as any folk musicians I know, carry on the sense of importance of folk music, the value of digging for old musical gold, of traveling far and wide to collect old songs and tunes, and of being friends with, rather than exploiters of the old-timers who have provided such wonderful musical foundations for us all."
Cathy had a wonderful laugh that still resonates with many of us. It's the kind of laugh that says something important about laughter. She would laugh at the thought of laughing, and she married someone for whom laughter is vital to life. It made traveling about and performing and playing music with new friends a rich and life-fulfilling experience.