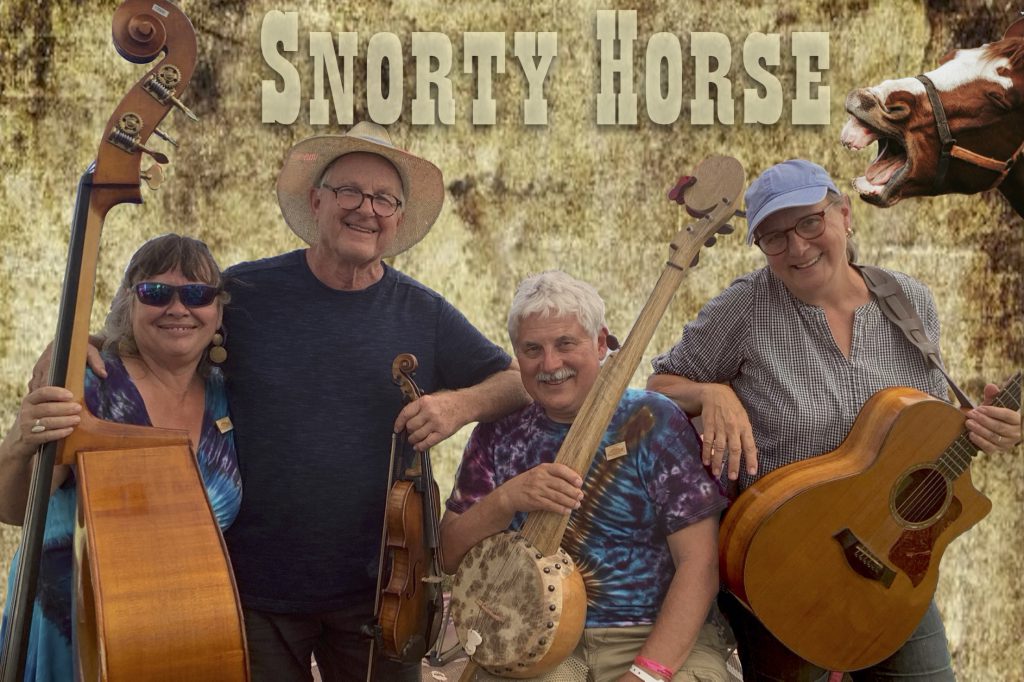 Snorty Horse: Back from the Glue Factory
Snorty Horse is a collection of friends of more 30 years. Mike Fraser knew Cathy Barton and Dave Para from fiddle contests and jam sessions in the vibrant fiddle tradition in Missouri where Mike had apprenticed with master Ozark fiddler Bob Holt. The trio did numerous school assembly shows for Young Audiences about Missouri cultural history and the Lewis and Clark expedition and played occasional dates together around the state. They recorded two albums for the Missouri Department of Conservation, "Voices of the Hills," and "Fiddles and Forests." Mike has led the band Shortleaf, named after an important native pine tree for many years. Tenley Hansen, trained in musical theater, joined Mike's band in Kansas City, adding keyboard, guitar, lead singing and composing. As Snorty Horse, the separate quartet played dances, festivals and school shows, chomping at the bit to play traditional and contemporary Ozark music. The band name came during a late-night drive after a dance and has managed to stick, facilitating a number of bad jokes, puns and strange graphics. The four started camping together at the Walnut Valley Festival, in Winfield, Kan., and Erika Gerety and her late husband, Gary Libman, were part of that close circle of friends from New Mexico and Kansas City known as Picko de Gallo. Since Cathy's passing in 2019 Dave and Erika have found a loving life together and are active in the New Mexico music scene. In the new group, Dave has played more banjo in addition to his lively back-up guitar style, and Erika has saddled up with the band offering her solid bass playing and expressive singing voice. They all share a love for traditional music and its cultural contexts and history, good singing and the joy of making a big sound for an evening dance.
Dave is also a member of the Cheap Shots Band.
++++
As the artist formerly known as CathyandDave I am glad to be able to play music and work with some very good friends and fine musicians I have been lucky to know. Cathy certainly wanted and expected this of me. It would be hard to underestimate the effect that her passing had on my life and music. Since 1984, when I gave up my day job as a newspaper editor, Cathy and I spent all of our time together, and music was a natural part of our daily lives. My professional musical life was never conceived without her, and I'm not inclined to pursue a solo musical career at this time. Music still inspires and comforts me, even the solace of singing alone in the house has its benefits, and playing in jam sessions with friends is still the slice of heaven Cathy and I came to know.
++++

Ellie Grace, Paul's daughter and a woman I have known since in vitro, graciously offered to join Mike and me to play school assemblies for Young
Audiences, Inc., and continue the Missouri Cultural History program that Cathy and I developed with the late Bob Dyer. Of course, I will continue with the Big Muddy Folk Festival, sponsored by the Friends of Historic Boonville. I am also planning to continue our annual Christmas sing at Arrow Rock, something we did for longer than we were married.
++++
Most of what I know about music, like most of what I know about love, I learned in my life with Cathy. There's still a lot of both left in me.