Rebel in the Woods
---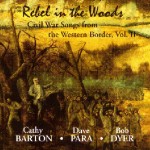 Civil War Song from the Western Border Vol. II
With Bob Dyer 1995

Released in late 1995, this is a fine sequel to the award-winning "Johnny Whistletrigger" album of Civil War songs from the Missouri, Kansas, Arkansas region. This album has also been named a Notable Recording for 1996 by the American Library Association. Most of the selections are rare songs not previously recorded on any other Civil War album.
(Click on any of the song titles below to display background and lyrics)
Bibliography
To purchase this CD ($15 plus p&h):

… or print an order form to mail with a check.